Discover more from The Magazine Diaries from Grub Street
Weekly updates from a magazine for magazine people.
A decidedly excellent week
Remember last week when we were on a train to London? Well that was the start of a decidedly excellent few days, beginning with the PPA Festival and ending with a surprise accolade for our very first cover.
---
We need to get out more
The PPA Festival was the best I've been to in years, and not just because we sneaked a copy of The Grub Street Journal into 350 of the delegate bags (it's OK, the lovely PPA people said we could).
The programme was the most varied I've seen in a long time, with speakers and panelists coming from all shapes and size of publisher. There were even – shock-horror – some people from outside the industry introducing fresh perspectives.
I was there recording interviews for a Media Voices podcast on future-proofing your reader relationships [spoiler: it's all about audience data and sex toy-analogies]. But I got the chance to listen in on a few sessions plus meet lots of people that I haven't seen since before COVID-times and I can report, the mood was good.
Coming away from the day, Jo and I agreed that we need to get out more.
---
Trust anchors
Wednesday, we were at the Publisher Podcast Awards, and before the awards proper, I hosted a forum discussion on revenue in podcasting. There were about 20 people in the group and we managed to speak more or less solidly for two and a half hours about how to make money from podcasts.
We covered the waterfront, from the most basic host-read advertising to AI ads and sophisticated subscription plays. What I found most interesting though, was the frustration around the abject lack of podcast metrics and, more importantly, how people were working around the problem.
For some it was use of proxy numbers, including newsletter subscribers, for others it was top-level listener numbers. But what really came through was how people leveraged trust in their parent magazine brands to book clients.
Every shiny new content channels needs a trusted brand to anchor it.
---
Community activation FTW
On Friday, our Don Quixote cover won the BSME's Cover of the Month competition. Yes. We. Absolutely. Did.
I'm more used to handing out awards than winning them, so this was an unexpected treat. We were up against some proper heavy hitters (Which?, The Observer Magazine, even Good Housekeeping with their coronation cover).
Now, I'm not naive. I realise that winning an Instagram Cover of the Month competition is not the same as winning a fully judged cover contest. The winner here was chosen by the general public on Instagram.
Also, I am fully aware that if any of the other entrants had brought the full weight of their reader base to the competition, we wouldn't have had a look in. But they didn't. We, on the other hand, asked our small but beautifully formed community to vote for us. They responded and we won. Fucking BOOM!
Does it matter? Probably not to Good Housekeeping, which has Chaz and Cam fronting their issue. But to a scrappy startup that took a chance on a young illustrator for its launch cover… it means the world!
---
One of the highlights of my week was Joanna singing the opening song from our Don Quixote Issue playlist to two unsuspecting, but amused, Podcast Awards guests from Spotify.
---
You can say #IboughtGrubStreet too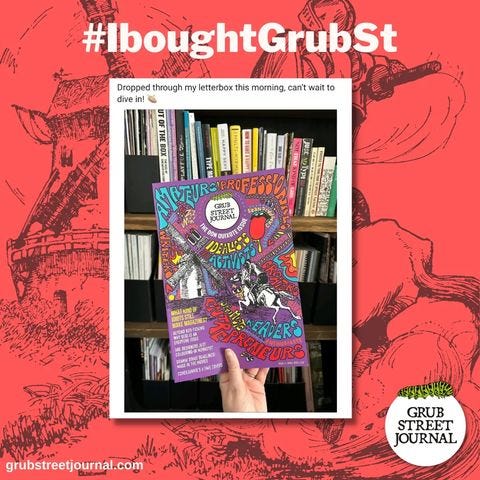 If you're in the UK, you can buy it at grubstreetjourrnal.com
And if you're elsewhere, buy it here: newsstand.co.uk/grubstreetjournal